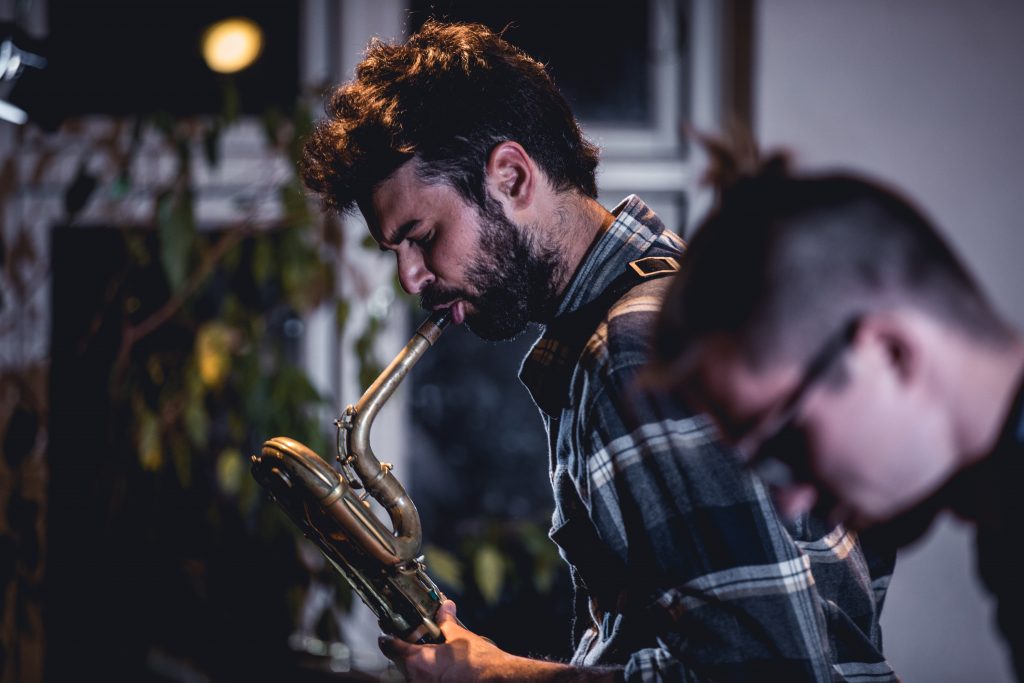 Tiny Sound
Tiny Sound is a collaboration between Giuseppe Doronzo (IT) on baritone saxophone and Morten Poulsen (DK) who performs on an electro-acoustic suitcase. Brought together by a common interest in viewing music as an unfolding of textural sonic environments and with a dedicated artistic study of the sound potential of their respective instruments, they create unique concerts based on organized improvisation.
In his study of the baritone saxophone, Giuseppe Doronzo has established a personal library of more than 170 multi-phonics, enabling him to play between two and up to five notes simultaneously. With the creation of a polyphony inspired by Tibetan and Mongolian overtone singing, he uses extended techniques to sing a melody based on a particular overtone sequence while also playing the fundamental tone.
For this collaboration, Morten Poulsen performs on an electro-acoustic instrument that he build inside a suitcase. The instrument is inspired by the concept of "the acousmatic voice"; a voice to be heard without seeing its source. With the electro-acoustic suitcase, the objects creating the sounds are hidden, encouraging the audience to experience the sound without visual cues of what made the sound.
Together, the musicians explore a form of macro-music, utilising extended instrument techniques and piezo microphones to amplify, reveal and explore the texture of specific sounds.
At the live performances, Giuseppe and Mortens' instrumental explorations culminates in a creative process they describe as "organized improvisation". The musicians rely on their categorisation of their instruments' sounds and their timbre, shape, mental associations, mood, etc. These categories are then structured into "sonic milieus" where individual sounds compliment each other. Finally, in live performance, the musicians then move freely inside and between the sonic milieus.
Concert history: 
16.08.2018 – M100, Odense DK
17.08.2018 – ArtRoom, Aalborg DK
18.08.2018 – Galleri Grundstof, Aarhus DK
Photo and video by Lucas Illanes