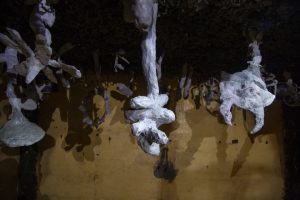 With the project The Reoccupied Bunker, artists Inge Tranter and Morten Poulsen, together with children and young people from North Jutland, reoccupied a WWII bunker with an installation based on the surroundings around bunker no.42 in Hirtshals, Denmark. 
Using a very simple drawing task, the installation shows how our perception of reality is influenced by the word selection in the description of a person, an object or concept. Children were presented with a list of plant names from Danish nature and were given the task of making a drawing of the plant they believed it belonged to. These "fantasy plants" were then interpreted as sculptures by young people from North Jutland and hung upside down in the bunker, a mirroring and distortion of the beautiful nature in the surroundings around the bunker. 
The sculptural installation is accompanied by a sound piece created by sound artist Morten Poulsen, which is based on field recordings from the nature surrounding the bunkers; the sound of wind in the bushes and high grass, and the sound of the bunkers' own construction. The sound piece plays with the idea of territory as not just a geographical but also a sonic and mental entity; a territory mapped through sound. 
Inside the bunker, the sound waves fill the space and form a sonic territory in the bunker itself, which speaks of the nature around the bunker and communicates with the sculptures in the exhibition. A consistent tone creates a mood, a kind of conscious and subconscious frame of understanding. Sound has the property of being able to create thought patterns and moods in us, which at the same time have an influence on the way we understand the world around us. 
The installation was in a WW2 Bunker in Hirtshals, Denmark and was open for the public in June and July 2019.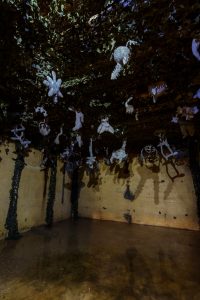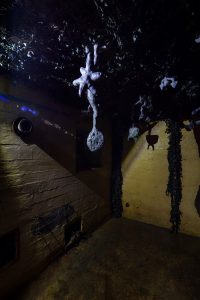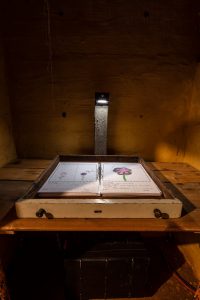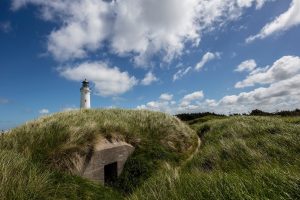 The project was supported by Børns Møde Med Kunsten // Unges Møde Med Kunsten // Region Nordjylland // KODA/Danish Composers' Society // realised in collaboration with potter Janice Anee Hunter and educator Gudrun Steffensen, · Vendsyssel Historiske Museum – Bunkermuseet · Hirtshals Fyr – Bunkergruppen · Frederikshavn Produktionsskole · Hjørring Municipality · Hirtshals Byjubilæum 2019 · Hirtshals School · South Gate Writing Society · BGK Nord · Kærby School · Naturmødet 2018
Photos by Niels Fabæk