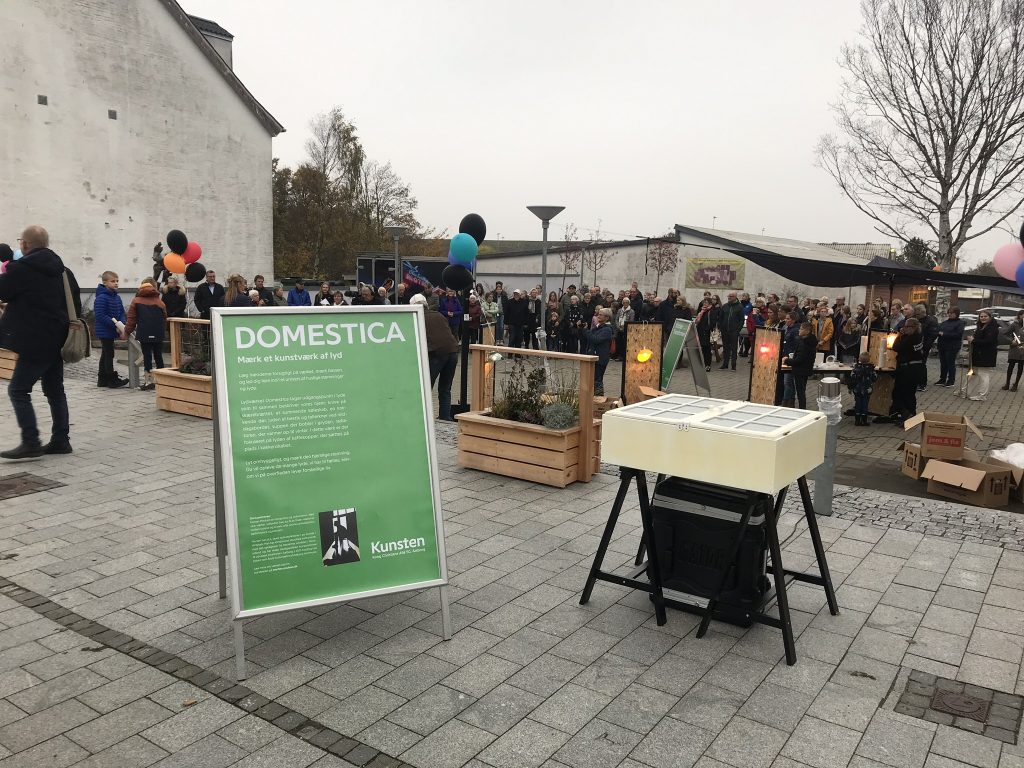 Domestica
The term soundscape describes the sounding environment as perceived by humans. A soundscape is a combination of sounds that arises from our immediate environment, while at the same time forming the acoustic surroundings that we live in, having a conscious and subconscious effect on us as individuals and social beings. For this sound sculpture, we turn our ear towards domestic soundscapes; the seemingly mundane soundscapes that form our everyday environment. A domestic soundscape contains a multitude of individual sounds; the knives on the cutting board preparing dinner, the humming of the refrigerator, the squeaky door, the sounds of cutlery when dining, the sound of wind shaking the windows, a radiator heating up for the winter or, as with the sound sculpture Domestica, organizing cups in the cupboard.

 
The chaotic sounds of porcelain cups creates complex melodies that rings with both restlessness and humor. The sounds are presented in an old vitrine, which is normally a cabinet for displaying the finest porcelain and glass. Attached inside this vitrine are six sound exciters that turn the sounds into physical vibration that, just like the body of an acoustic musical instrument, filter the sound through the construction of the vitrine itself, revealing its acoustic properties and makes it a small concert hall for small sounds.

 
By turning our attention towards our immediate surroundings and by listening with care to sounds that we share, it is possible to find similarities and connections between apparently different ways of living. This piece seeks to highlight domestic sounds and, by importing them from private to public space, create contemplation and discussion about the things we have in common.
Domestica is commissioned by Kunsten Museum of Modern Art  for Kulturkaravane Nord / Culture Caravane North. From October 22nd to November 9th 2019, Kulturkaravane Nord presents Kunsten Museum of Modern Art, Aalborg Symphony Orchestra and The Danish Royal Theatre in 11 towns in the region of Northern Jutland in Denmark.
Materials: sound composition containing recordings of porcelain cups, old vitrine, 4 structure-born loudspeakers, media-player, amplifier, audio-cables, flight case
Thanks to FUKK, Thomas Dausell and Sara Arenfeldt