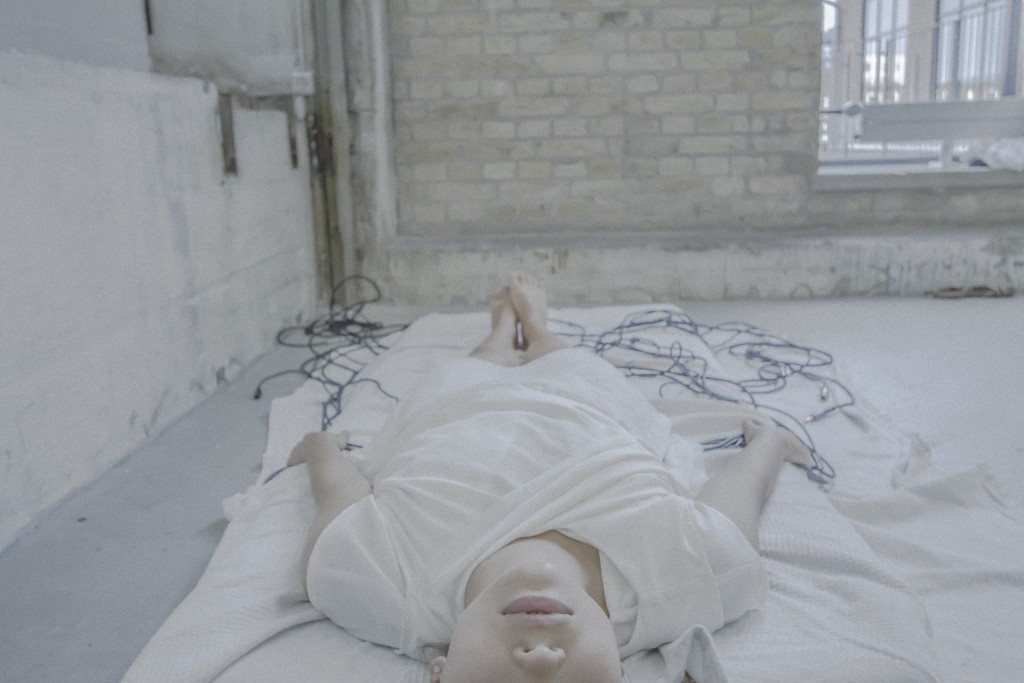 For dansk, klik venligst her.
Concept:
During 3 days, the audience will have the opportunity to experience a concert like they never have had before.
"Focus will be on intimacy, by experiencing a concert alone for yourself or with a friend. But more than this, you will experience the music through your body, by lying on a bed which vibrates the music and sends it around your body. Think of it as your own private session where you have the opportunity to experience music in an intimate and bodily way. But you have to allow yourself. Book your own session now."
Practical information:
The performance consists of short concerts of 20 minutes each, from which you pick the time you wish to book on the schedule below. When you have found the time slot that you prefer, please send a mail with your name and time request to dadadoit@morten-poulsen.dk .
Your session is located in the gallery at Huset Hasserisgade in Aalborg, Denmark. Please arrive some time before your session and relax in the waiting room. When it is your time, your name will be called upon.
Facebook event: DADADOIT PT.3
Choose time and send a mail to dadadoit@morten-poulsen.dk to request a time slot:
Monday 21st of November:
18.00 – 18.20 Vibeke +1
18.25 – 18.45 Elisabeth +1
18.50 – 19.10 Amelie +1
19.45 – 20.05 Slavomir +1
20.10 – 20.30 Jeanette +1
20.35 – 20.55 Dimitria +1
21.00 – 21.20 Karl +1
21.25 – 21.45 Sofie +1
Tuesday 22nd of November:
16.20 – 16.40 Jeroen +1
16.45 – 17.05 Louise +1
17.10 – 17.30 Christine
17.35 – 17.55 Marius
18.00 – 18.20 Anne
18.25 – 18.45 Jes
18.50 – 19.10 Edina +1
19.45 – 20.05 Lulia +1
20.10 – 20.30 Heidi
20.35 – 20.55 Michelle
21.00 – 21.20 Tine
21.25 – 21.45 Alberto +1
Wednesday 23rd of November:
19.45 – 20.05 Josefine
20.10 – 20.30 Benjamin
20.35 – 20.55 Daniela
21.00 – 21.20 Irene +1
21.25 – 21.45 Angeliki
---
Q: How do I know if my preferred time request is confirmed?
A: You will receive an answer through mail when your time is confirmed. We will respond as fast as possible.
Q: Am I allowed to bring a friend?
A: For each session of 20 minutes, you are allowed to be maximum 2 persons.
Q: When should I arrive?
A: We advice you to arrive minimum 10 minutes before your session. The waiting room is open 30 minutes before the first session of the day.
Q: Can I attend without booking a time.
A: No. The session is behind closed doors for 1 (maximum 2) persons at a time. It is not possible to attend without having booked a session or attend someone else's.
Q: What is DADADOIT anyway?
A: DADADOIT is a series of performances by the artist Morten Poulsen, started in 2014, and strives to explore different concert formats and different ways to engage with music in our modern age.
Please do not hesitate to contact us here if you have any questions.
We look forward to seeing you.
---
Model: Aima Skinnebach. Photographer: Deanna Nichele Young
DADADOIT PT.3 is supported by KulturKanten and Musam