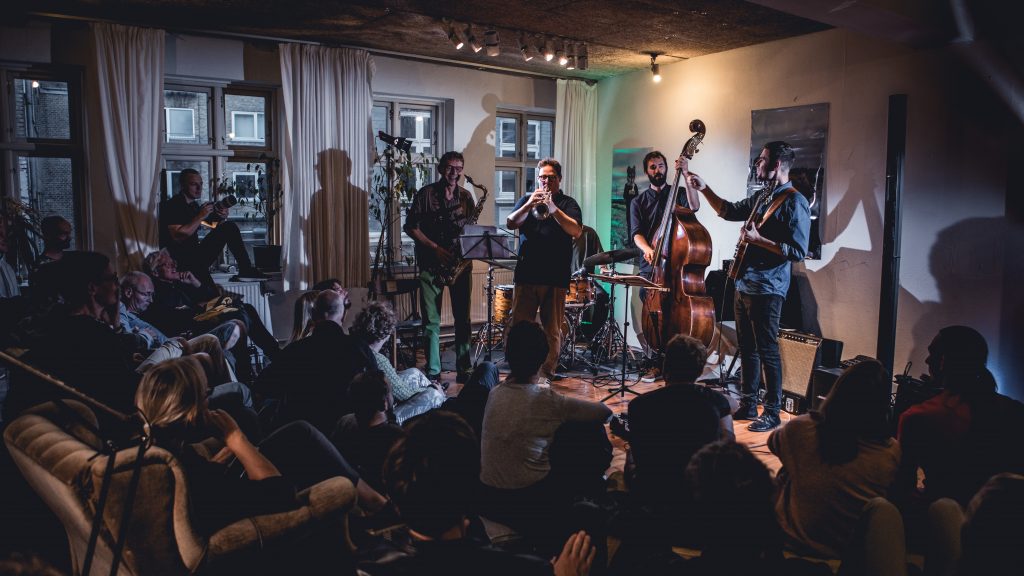 In 2018, I was chairman for Meutiviti and responsible for Meutiviti Festival for jazz- and improvised music.
Meutiviti is a union of jazz composers in Aalborg, Denmark, whose goal it is to create a festival each year, presenting original music composed by each of the members of the union. The 2018 edition presented 9 concerts over 4 days at 2 different venues: Center for Dansk Jazzhistorie (which holds northern europe largest archive of jazz records) and ArtRoom (an art gallery in a backstage room of a music venue).
On one evening of the festival, we invited the writer Søren Gehlert Schmidt to write his experiences through the night. The resulting text Jazz er et spørgsmål (Jazz is a question) was subsequently presented on a danish blog for jazz reviews. Find it here. 
Additionally, the danish jazz magazine Jazz Special brought an article about Meutivti Festival 2018. Find it here.
Meutiviti Festival 2018 was made possible by collaboration with Kamilla Marlene Roy Mez, Center for Dansk Jazzhistorie as well at the members of Meutiviti (Thomas Albæk Jakobsen, Jens Fisker, Jakob Mygind and Mads Houe), as well as with grants from Aalborg municipality, Aalborg Festivals, DJBFA and DMF (the danish musicians union). Video and photo by Lucas Illanes.